In today's world, healthier options tend to be a bit more expensive than fast, processed foods. There have been multiple debates in schools, such as a water bottle costing more than a soda & vending machine snacks costing less than fruit. It's a common stipulation that eating healthy and "dieting" is expensive, but despite pricier food options, you cannot put a price on your health and living a long life. Your health is number one, because those important to you rely on you to be at your best!
However, there are quite a few ways you can diet on a budget. I don't like to use the word diet, because I'm a "flexible dieter," meaning I live a healthy, realistic lifestyle and enjoy a little cheat here and there. (Such as wine, chocolate, oh and did I say wine?)
BUY LOCAL
Not only is buying from local farmers and small businesses good for your community, but buying local tends to be a cheaper option versus grocery stores. Farmer's markets are a great way to stock on fresh produce, and it's easy on the wallet. For my family, we budget every cent, because we want to get the most out of our hard-earned income. So spending $30 a week at the local farmers market (feeding a family of four) has been a life changer! I've made it a weekly "day date" with my daughter, who is very excited to pick out her favorite fruits and vegetables every Friday morning. Obviously every community varies with pricing and market details, but here is an example of what I get for $30: two baskets of strawberries, two baskets of bananas, 2lbs of green beans, two large cucumbers, three large carrots, a basket of sugar snap peas, two bundles of broccoli, one papaya, two mangos, 1lb mixed raw nuts, 1lb dried fruit (my kids love this instead of fruit snacks), one basket of sweet potatoes, a basket of mushrooms and large bag of spinach. This lasts my family at least a week!
MEAL PREP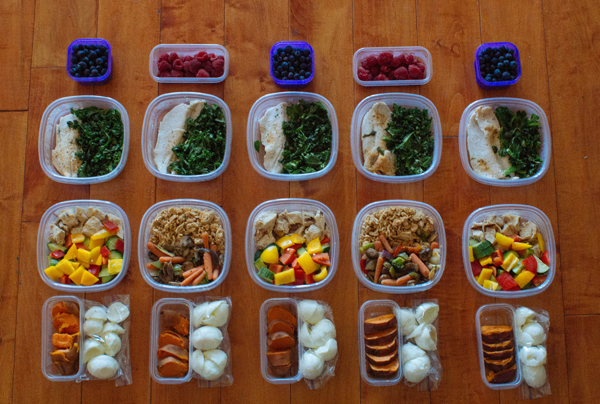 Buy in bulk and prepare meal ideas ahead of time. Meal prepping is tough and time consuming, but it's also a great way to save money, instead of dining out or running to the store every time you need an ingredient. Some ideas on how I meal prep: Farmers market (as stated above) has made buying vegetables for every meal a breeze! I plan to use green beans for three meals, cucumbers for four snacks and three salads, carrots for five snacks and three salads, spinach for two breakfast omelets and three salads, two bananas a day (one for met and one split between the kids), half a cup of strawberries a day for breakfast, one sweet potato a day for lunch or dinner and the rest of the fruits and vegetables for my kids snacks. The only other thing I rely on the grocery store for is milk, eggs, meats and juice.
GROCERY STORE TRICKS